Our news
25.02.2016
Have you already been to Kronshtadt? This small town is located only 300 km far from Saint-Petersburg and its fame resounded since its foundation up to nowadays. Kronshtadt is familiar to everyone more than 300 years. Peter the Great founded this town – fortress - port in 1704 for the protection of Saint-Petersburg against enemies from the Baltic Sea side as during this period the Great Northern War was running. And still the attention of the whole world is gained by this not big town.
Home
Information Cultural Centre welcomes you in one of the unique districts of Saint-Petersburg – KRONSHTADT, a town of naval and military glory. Information Cultural Centre (ICC) was founded on the 20th of March, 2008 as Tourist Information Centre for the tourism development in Kronshtadt.
The Centre offers free information about Kronshtadt, its history, monuments and places of interest. Information Cultural Centre organizes excursions around Kronshtadt, boat trips to Kronshtadt forts, individual and group excursions.
Kronshtadt is attractive for tourists because of its distinguished history, its sightseeings and architecture, its desolate forts, its ships in the harbour, canons on the bank of the Italian pond, its views... There is much to see in Kronshtadt. And the Information Cultural Centre is eager to help you anytime. Welcome to Kronshtadt!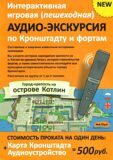 Take an interactive audio excursion around Kronshtadt with Audiopen®. The history of Kronshtadt is told by a famous local historian-guide and its duration is more than 3 hours. It is so easy to use. Just touch a certain mark on the map and listen to the story of this object. There is no need to hurry - you can enjoy our town with Audiopen® until our office is open. To lend Audiopen® you have to pay only 500 rubles and leave 3 000 rubles as a deposit which will be given you back after Audiopen® is returned to the office. One Audiopen® is used for a small group up to 4 people. The audio excursion is presented in Russian and English.
Here you can find and take free maps of Kronshtadt

Просмотреть Free Kronshtadt maps на карте большего размера